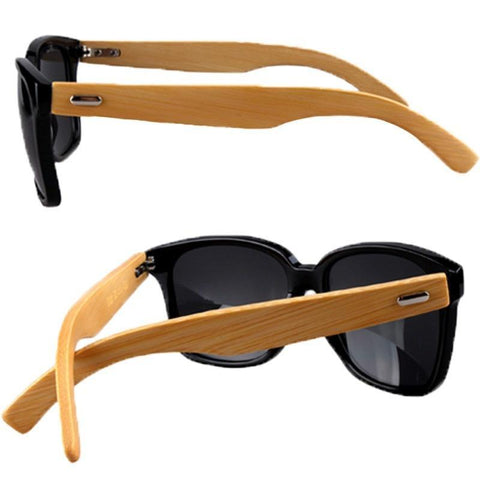 Tahiti

Product Details:

Bamboo frame
plastic lens
non-polarized
Lens width: 50 millimeters
WORLD CLASS PROTECTION - Classic 50 millimeters lens width features UV 400 protection, the highest possible protection against UVA and UVB
UNIQUE BAMBOO FRAMES - Made with real, high quality bamboo wood temples, these frames are the perfect combination of flexibility and durability. Bamboo is ounce for ounce stronger than steel
LIGHT WEIGHT & SIZE - Ultra light weight at only 1 OUNCE, about 50% lighter than standard frame weight. Quality sustainable, renewable bamboo is also amazingly comfortable!
Variety of Colors, with the NATURAL LOOK AND FEEL of glasses costing over $40. Premium spring hinges and bamboo material fit most faces naturally
Product of PUGS (TM), Trademark Registered. US Trademark Registration will be fully enforced. Includes 100% LIFETIME SATISFACTION GUARANTEE!
Tahiti
Description

Tahiti

Product Details:

Bamboo frame
plastic lens
non-polarized
Lens width: 50 millimeters
WORLD CLASS PROTECTION - Classic 50 millimeters lens width features UV 400 protection, the highest possible protection against UVA and UVB
UNIQUE BAMBOO FRAMES - Made with real, high quality bamboo wood temples, these frames are the perfect combination of flexibility and durability. Bamboo is ounce for ounce stronger than steel
LIGHT WEIGHT & SIZE - Ultra light weight at only 1 OUNCE, about 50% lighter than standard frame weight. Quality sustainable, renewable bamboo is also amazingly comfortable!
Variety of Colors, with the NATURAL LOOK AND FEEL of glasses costing over $40. Premium spring hinges and bamboo material fit most faces naturally
Product of PUGS (TM), Trademark Registered. US Trademark Registration will be fully enforced. Includes 100% LIFETIME SATISFACTION GUARANTEE!

Reviews